Event
Relapses and Recovery: An Online Peer Support Group
DESCRIPTION:  Looking for some support in your recovery?  Connect with others working on their own recovery in a supportive online space. Participate at your own comfort level. Explore new skills in a non-judgemental, pro-recovery environment.
What you get:
Specially selected resources including handouts, worksheets, and videos
Two online sessions with trained peer mentors
A supportive group encouraging accountability
Recovery is messy and complicated, and isn't a straight line. Relapses are a part of the recovery process.
We explore:
5 steps to managing relapses
The power of self-compassion
Creating your own relapse toolkit
*Group is Tuesday July 16th AND Tuesday July 23rd
*The online support program is accessible from any smart phone, tablet or computer with internet access, and is safe and secure.
*More information here:   www.eventbrite.ca/e/relapses-and-recovery-an-online-peer-support-group-tickets-64729031275/amp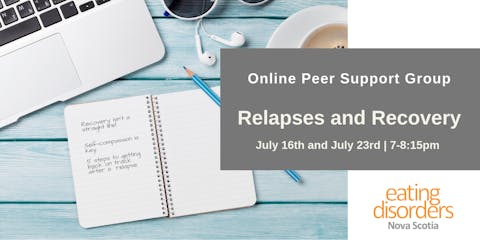 Date:
Repeats every week every Tuesday 1 times. Also includes Tue Jul 23 2019.
Jul 16 2019 -

3:00pm

to

4:15pm
Jul 23 2019 -

3:00pm

to

4:15pm